There could be several reasons for becoming constipated during the months that you suffer from SAD Disorder.
Note from Little Linda Pinda,
See how Juice Plus "The Next Best Thing to Fruit and Vegetables" can build up your immune system, restore energy, help with constipation, heart health, Skin, Gums and Nail health and so much more.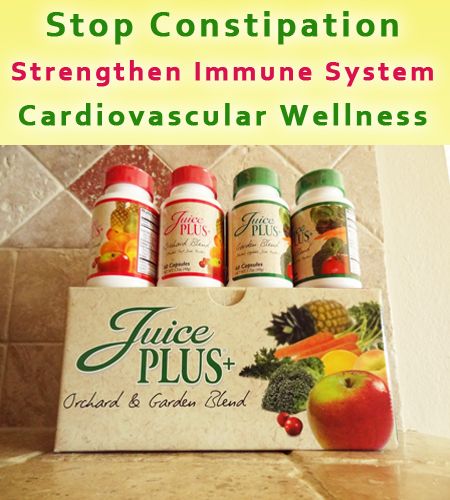 Eating Simple Carbohydrates
We tend to crave Carbohydrates during the Fall, Winter and even Spring months, particularly if you are having symptoms from Seasonal Affective Disorder. When we give into these cravings, we are often times eating simple carbohydrates such as Sugar, White Flour, White Rice etc… products. Maybe you are grabbing pretzels, potatoe chips, candy or something else that breaks down into your system as sugar.
If you are eating these types of foods, you probably are foregoing the Healthier foods such as Fruits, Vegetables, Whole Grain/ Whole Wheat products. For me, sugar also seems to blout me thus not providing the needed fluids for our bowels.
I just started with a wonderful "Whole Foods" Fruits and Vegetable capsule. It is made up of 17 quickly dried fruits and vegetables and recommended by Dr. Sears, the renown pediatrician who wrote 30 Books. If you don't get your 9 to 10 servings of fruits and veggies in per day, this will help you greatly. You still need to eat fruit and vegetables but many of us don't get the recommended amount.
After 6 days of taking these Whole Foods I started feeling a little bit more energy. People told me how fantastic the Juice Plus Orchard Blend ( Blended Fruit Juice Powders ) and the Juice Plus Garden Blend ( Blended Vegetable Juice Powders ). I couldn't wait to start up. When my box arrived, I quickly opened it and took double the amount first thing.
Besides Seasonal Affective Disorder, SAD Disorder, I also have an autoimmune disease that just zaps away my energy. I have been so weak lately and once again feeling quite desperate to find something that will help me. Autoimmune diseases are not curable but hopefully manageable. I have high hopes for this as I have found that Antioxidants and B vitamins have been the most helpful for me. These are not vitamins they are Whole foods.
Does Gluten Constipate You?
Gluten can cause constipation (or diarrhea) in some people. If you happen to have a Sensitivity to Gluten or an Intolerance to Gluten or even Full out Celiac's Disease, Gluten can cause problems for your digestive system. You may want to either try going on a Gluten Free Diet to see if this helps your constipation. Try for at least One to Two Months. Take special note if your constipation gets better or not. I find that when I go Gluten Free, I tend to eat WAY less Carbohydrates, because carbs so often have Gluten in them, and I also tend to eat WAY more Fruits and Vegetables.
Does Your Blood Go WAY Down during Seasonal Affective Disorder time periods?
When we get so Weak while suffering from Seasonal Affective Disorder you may want to have your Blood Pressure Checked. For some of us, we get so weak that our blood pressure drops drastically. You really need to seek your doctors advice for Seasonal Affective Disorder, Low Blood Pressure and or Constipation. For me, it seems like when my body slows down so drastically that my entire system slows down including my Digestive System. The SAD Disorder seems to cause Constipation.
Hints to Stop Constipation while Suffering from Seasonal Affective Disorder – SAD Disorder time periods
See Below for Links for much more information on How to Stop Constipation.
1. Eat 9 to 10 Servings of Fruits and Vegetables per Day – This seems like a lot but if you shoot for it, you probably will be eating more than you would normally.
2. Try Going Gluten Free for One to Two Months and then Slowly Add Gluten products back into your diet. Track what you Eat and your Bowel Movements. It is important to take note if eating Gluten Free Foods helps you Feel Better and Stops Constipation.
3. Drink at Least 64 ounces of Fluids per Day. Better Yet drink Half Your Body Weight in Ounces plus 10 ounces while Acutely Constipated.
4. Exercise. Walking in the Morning will not only Help you get more Sunlight but you will also stimulate Serotonin Levels in your Brain and get your body stimulated as well helping your Digestion System to help Stop Constipation.
5. If you can not get enough Sunlight, use a Seasonal Affective Disorder Light Therapy Box. I found what I believe

Seasonal Affective Disorder Lamp


Uplift Technologies DL930 Day-Light 10,000 Lux SAD (Seasonal Affective Disorder) Lamp

Uplift Technologies Day Light 10,000 LUX SAD Disorders Lamp

Special Design Bright Light Therapy as Recommended by Doctors

HIGH 4.4 STAR Rating Amazon Reviews

















Uplift Technologies DL930 Day-Light 10,000 Lux SAD (Seasonal Affective Disorder) Lamp
Tasty Water Hints to get yourself to Drink More Water
http://stopconstipation.net/535.html
Fruit Smoothie and Lose Weight
http://oilofolayregeneristreviews.com/tropical-fruit-smoothie-recipe-for-beautiful-skin-and-loose-weight-too.html
CLICK HERE for Juice Plus Vegetable and Fruit Whole Foods capsules. The next best thing to Fruits and Vegetables.